"They say the next big thing is here,that the revolution's near,but to me it seems quite clear that it's all just a little bit of history repeating"
-Shirley Bassey, History Repeating
The episode picks up with a dazed Tariq, still lying, still angry at his father, and still healing over his Kanan heartbreak. While he can barely look at his father and does't return his father's embrace, he runs to uncle Tommy, the one family member he feels he can trust. Tariq is still going to Tariq, but this episode was redeeming. He's not pretending to be someone he is not, he is just a teenager, questioning, frustrated, and messing up. Next we see Mak, expertly played by Sung Kang, on a quest to remove himself from the rest of the prosecution team, and find Greg Knox's killer. He is still smug, expertly dressed, and two steps ahead of the rest of his team. It's easy to see the latter is something that will either help or hinder Mak in the remaining episodes. When Tasha finally sees Tariq, she has ly be referred to as "The Reckoning" with her estranged, self righteous husband. Ghost starts to unload on Tasha after finding out that Tariq was kidnapped previously while he was still on a federally paid for vacation, but Tasha flipped the script, telling Ghost that while he was in jail, she was saving their family.
Speaking of family, everyone's favorite blood in-territory-out drug dealer turned, well, drug dealer, Julio, died last episode. Tommy immediately questioned Dre, who did an excellent job pretending not to know Kanan was alive or that he had any contact with Tariq. Then he put on an academy performance discovering Julio was dead and wanting to exact revenge on Julio's killer, aka Dre's accomplice. Someone must like Dre, God or the Power writers, because he skates through every situation with more charm and composure than the last and even got a promotion as the new distributor. Even when it came to confronting Tariq on why he was keeping his involvement with Kanan a secret, when Dre realizes all Tariq wants is answers he gives them to him, becoming one of the only people that Tariq can trust to tell him the truth. Let's recap, upcoming drug dealer who also wants to be a business man, using charm and street smarts to get what he wants while forming a friendship with his mentor's son. Sound familiar? OH. Like Dre whispered over Julio's cold, dead body, he won.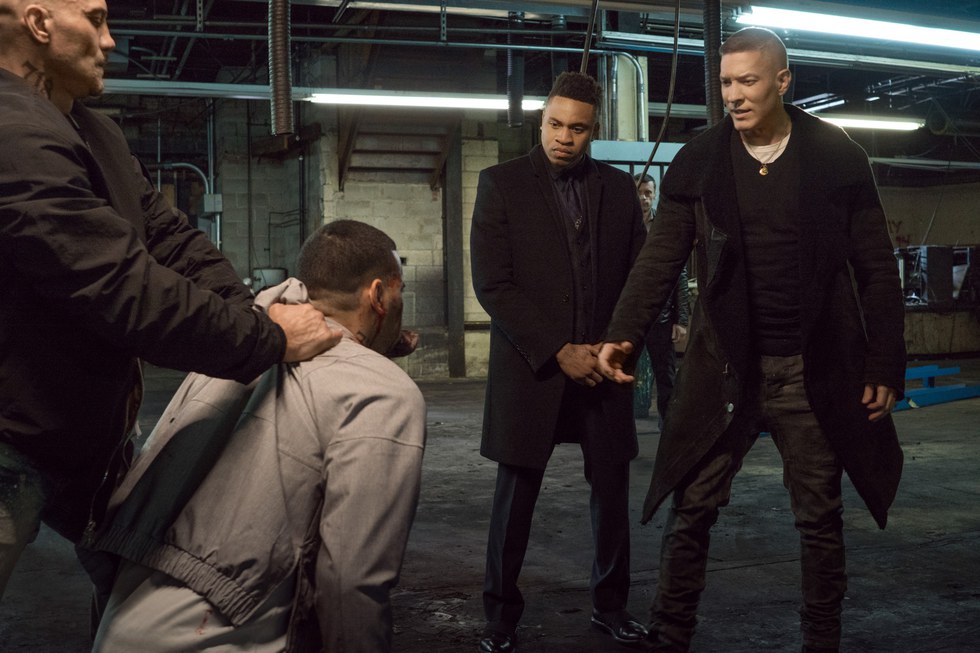 Rotimi and Joseph Sikora as Dre and Tommy in episode 7 of Power, avenging Julio's deathPhoto Courtesy of Starz
Also familiar, is Sandoval trying to pin his crimes on whoever they will stick. With Mak investigating every lead to bring Knox's killer to justice, Sandoval is planting seeds to set up agent Jerry Donovan as the killer. He even goes to kill Donovan, who just so happens to be at Angela's house discovering that Sandoval most likely is the killer. At this point, Valdez,Donovan, and Sax are assembling the real dream team to take down Sandoval.