"The second that women collaborate with other people, all of our credit is stripped from us. We seem to go to the bottom of the totem pole of who is responsible for the magic."
Kiran Gandhi had to make a choice. Shortly after graduating with a M.B.A from Harvard, she was running the London Marathon, an event she had spent the past year training for. Her period had started the night before and, as she told Alli Maloney in a New York Times profile, the thought of having to run 26 miles wearing a tampon did not appeal to her. So, she didn't. The image went viral and, suddenly, Gandhi was a spokesperson for menstrual stigma, an issue that was both a symbolic and practical concern for many in the feminist community. Gandhi had intended on having a career behind the scenes in the music industry but suddenly she discovered she was now an outsider, a protester demanding systemic change. What would she do next?
When I spoke to her, Gandhi had just played three shows in the past two days as Madame Gandhi, a music project that she has branded "electro-feminism." She tells me she is exhausted, we are meeting early in the morning and people haven't even eaten brunch yet. But she has another show, in another city, later this evening, so now will do. She is wearing a lightly decorated hoodie, sweatpants. This is not unlike her onstage attire, described in Vogue as a "bold orange waffled two-piece tracksuit with gold-accented sunglasses." Onstage, she is also flanked by a troupe of backup dancers, all wearing a bright monochromatic yellow that Gandhi calls a "power color."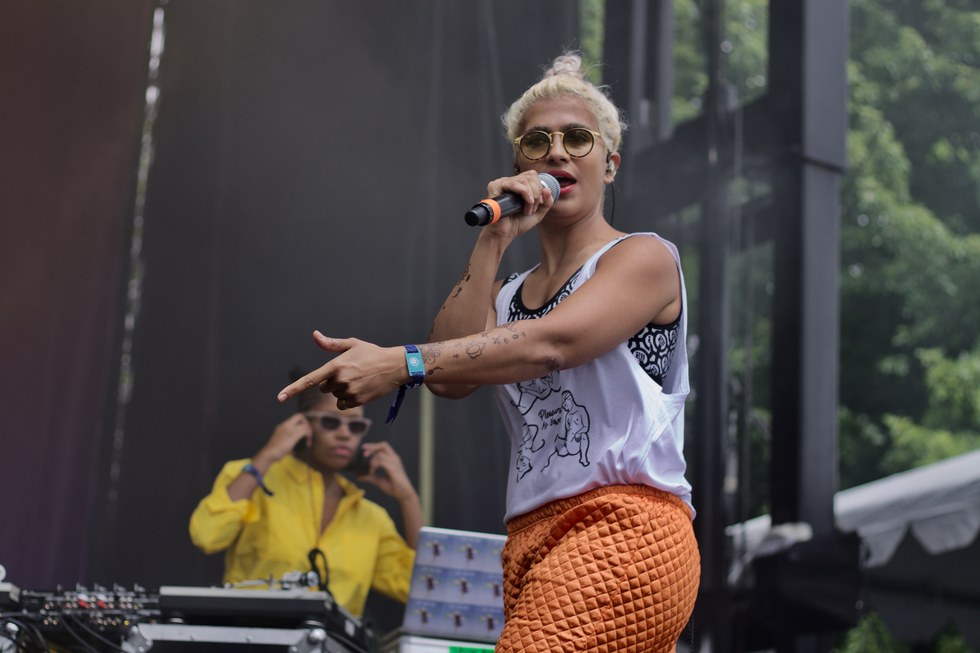 (Andrew Karpan)
Madame Gandhi released its first EP last year, shortly before the election. Titled Voices, the record's political charge included everything from a fist-pumping pro-Hillary anthem (titled "Her") to a chillingly catchy anti-patriarchy drum-and-bass polemic titled "The Future is Female." The title is appropriated from the slogan of a '70s New York lesbian separatist bookstore that went viral a few years ago when Otherwild begun selling it on t-shirts that have been worn by St. Vincent and namechecked by Hillary Clinton during her most recent presidential campaign. The show is exuberant and, I'm sure, exhausting: she drums, she sings, she raps. Her team flanks her, carefully choreographed, but this is, undoubtedly, her show.
"I can barely sing but we all have to be brave in our own voice," she tells me. She speaks in the register of inspirational rap songs, each story with a small moral. In college, she was the classic Lisa Simpson overachiever: majoring in mathematics, political science; a minor in women studies. Shortly after graduating, while working at Interscope, she saw an opportunity to work for one of the label's most high-profile and controversial artists, M.I.A.. "She was about to put out this record, Mtangi, and I remember thinking, damn that would be an extraordinary project to be a part of." Confident in her drumming abilities, she sent a video to M.I.A.'s team, explaining how she could augment her live show. The Anglo-Sri Lankan rapper invited her on tour.
Talking to Gandhi, I am impressed by the ceaselessness of her businesslike ethos, the kind of daily rigorousness where every event feels planned for maximum impact, her syntax floating into the majestic plural. "Anytime you want a job, want to date somebody, work with someone: instead of asking what can I take, ask what can I contribute," she tells me, a Kennedy-esque nugget of wisdom. Her approach to music is similarly business-like; "I have my own show checklist," she tells me, it begins with making sure she got paid and ends with adding fans to a database. She has given a TEDx Talk on something called "atomic living." I wondered what her thoughts were on capitalism.
"I don't support capitalism because it's exploitative but I do support business which is the exchange of value between two parties." She is not, she tells me, in favor of burning it all down. I bring up the band that followed her set-time at the festival, the D.C. band Priests, who were among those who crafted their voice out of the narrative of betrayal at the hands of neoliberalism, i.e. "Barack Obama killed something in me/And I'm gonna get him for it," from "And Breeding." Kiran Gandhi, on the other hand, begins "The Future is Female" by rapping: "I heard Amy Poehler speak at the White House, her words hit me hard like a light bulb."
She isn't angry, she tells me. She tells me that she tends not to listen to aggressive music. She is wary, even, of conscious rap, which she described as definitively unsexy. More Beyoncé than M.I.A., a mythos that extends to her professional dealings. "When you're on a label, you have to rally people behind you," she told me, when I brought up M.I.A.'s notorious issues with the music industry. "Of course, the music video gets a fraction of the views that it could have got had the label been working it."
Currently, Madame Gandhi is unsigned. In an interview with FADER, she bemoaned the industry's 'feminization' of the artist, forcing musicians to be dependent on their labels' control of the purse strings. "So many music labels come in and exploit communities of color because they understand that so much music is made in such vulnerable parts of the world, in poverty," she told me.
She brings up the common criticisms leveled against pop singers like Rihanna and, on her last album, Taylor Swift: that they don't write their own material. "The second that women collaborate with other people, all of our credit is stripped from us. We seem to go to the bottom of the totem pole of who is responsible for the magic." More saliently, she argues for a reconsideration of song artistry: "Of course they write their songs. To actually take your emotions and thoughts and rally it to a team of people to help them bring it to life is so difficult."
She believes, earnestly, that the system, as it were, can be reformed, can meaningfully incorporate change from outside. "I grew up inside it, my life is so tied to it," she tells me. Gandhi is the daughter of an investment banker who once headed Morgan Stanley's operations in India; he currently sits on the faculty at the Harvard Business School, a place that she admitted to me is "the breeding ground of all the patriarchy and the capitalism that we have."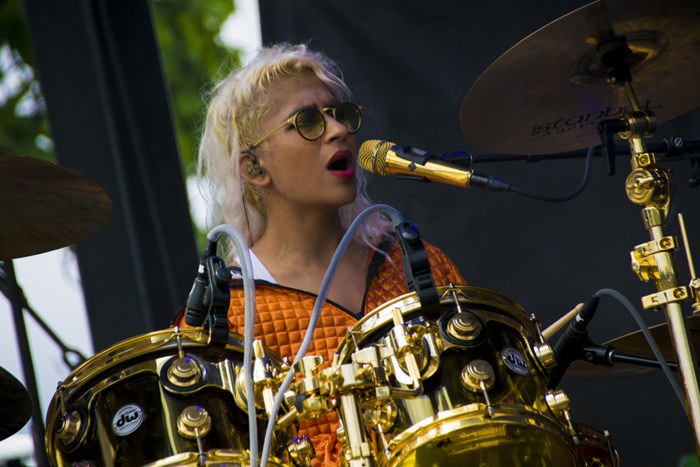 (Madame Gandhi)
The other day, she told me, she was watching home videos of her family playing tennis and observed her younger self demanding to know why "hitting like a girl" was an insult. Later, while at Harvard, she felt disconcerted at how efficient the system was quieting rebellious voices or even expression, at how easy it was for her male peers to take credit for work she had done. She described her decision to leave the business world as a self-selection out, departing an organization that she felt like she could not relate to.
Gandhi's narrative, in a way, inverts the traditional stories of privilege's infinite corruptibility. She brought up an endorsement deal that she recently signed, with Adidas. She would wear their outfits but use their platform to talk about issues like menstrual stigma and trans rights. She was endorsing a product but she was calling the shots, putting her name on something millions of people would see. "I think working with brands, as long as it's symbiotic, it's wonderful," she told me, "Any brand that wants to endorse a free-bleeding feminist musician is pretty fucking badass." We can't escape the mechanisms of privilege and industry but Gandhi seems to suggest a way to live inside of them, ears open to the voices outside.
At her shows, she reads from The Feminist Utopia Project, a collection of essays that its editor sent her shortly after the image of her at the London Marathon went viral. It appealed to her because "we have all these feminist conversations about what we're mad about, no one's writing about what the solution looks like."
The future is, after all, female. You can buy the shirt here.
A portion of the proceeds will be donated to Planned Parenthood.
Voices is out now. Check it out.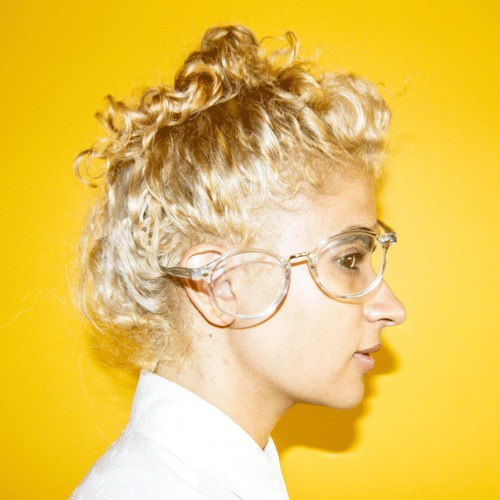 ---
Andrew Karpan is a roving free agent, full of wit. If you think he has a pithy personality, follow him on Twitter.
Comments
comments